Antony's Gardens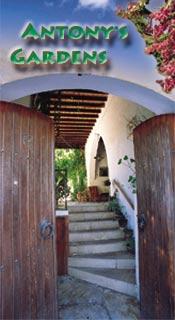 Antony's Garden House is one of the oldest and most traditional houses in the village and is about 150 years old. Built originally as a farm house with camel stables is has been restored to a family run hotel.
Antony's Garden house offers 8 Double rooms all en-suite, 5 are on the ground floor surrounding the beautiful courtyard and 3 are upper floor having stunning views of Akrotiri & Episkopi bay. Also on the upper floor there is one family suite with an enclosed verandah over looking the garden and views of the village as well as Akrotiri & Episkopi bay. On the ground floor there is another.
The converted camel stables still have the original Cypriot arches 6 metres high, here you can enjoy breakfast, relax in the lounge area or even enjoy a game of snooker. Guest's in the evening can get to know each other over a brandy sour in the small but friendly intimate bar, situated in the peaceful and private court yard with its mature trees & flowering shrubs making the setting a haven of peace and tranquility where one can have a truly relaxing holiday.